Buffalo Bills 2021 NFL Mock Draft Roundup 9.0
Throughout the year and leading up to the 2021 NFL draft, we will update our Buffalo Bills Mock Draft Roundup showing picks for the Buffalo Bills from several prominent sites and draft analysts.
The following are picks in recent mock drafts for the Bills:
EDSFootball - Hanson (4/15)
30. Jayson Oweh, EDGE, Penn State
The Bills ranked middle of the league in team sacks (38, T-15th), but no player had more than five sacks in 2020. In addition, starting defensive ends Jerry Hughes and Mario Addison are both on the wrong side of 30. While the Bills drafted A.J. Epenesa in the
second round last year
, taking a swing on the immense upside of Oweh at the back of Round 1 makes sense.
Despite his lack of production (zero sacks in 2020 after posting five in 2019), Oweh has rare traits. As Bruce Feldman noted in his annual Freaks list, Oweh is "
the most explosive one of the bunch
" (of athletic freaks). The 257-pound defender ran a 4.36 forty with a 39.5-inch vertical at
Penn State's Pro Day
.
Fox Sports - Rang (4/15)
30. Christian Barmore, IDL, Alabama
Only five teams surrendered more rushing touchdowns than the Bills a year ago (21) and none of those clubs reached the playoffs. The 2021 defensive tackle class is below average, but most see the massive (and still ascending) Barmore as the best of the bunch.
CBS Sports - Jones (4/14)
30. Travis Etienne, RB, Clemson
It feels like a corner or edge rusher here would be a reach for the Bills even though they're needs. I didn't plan to have a running back go in the first round, but Buffalo needs a dynamic three-down back who has the speed to be a home-run hitter and the hands to be Josh Allen's safety valve.
Continue reading our Buffalo Bills Mock Draft Roundup
Previous update: Buffalo Bills Mock Draft Roundup 8.0
MORE TEAMS: All NFL Team Mock Draft Roundups
2020 NFL Power Rankings: Buffalo Bills
Throughout the 2020 NFL season, we will compile a consensus NFL Power Rankings that averages the rankings of all 32 NFL teams.
Here is where the Buffalo Bills rank in terms of average, best and worst in our consensus Week 17 NFL Power Rankings:
Average ranking: 8.8 (8th)
Best ranking: 6th (NFL.com)
Worst ranking: 11th (The Athletic)
Below you will find a Week 17 Draft roundup for the Bills in our consensus 2020 NFL Power Rankings.
The Athletic -- Rank: 3
Matt Milano, LB: Injuries have slowed him down this year as Milano has played just 27 percent of the Bills' snaps. But he's previously been durable and will be just 27 at the start of next season. Milano is a three-down off-ball linebacker and one of the Bills' best defensive players. He could enhance his market with a big postseason performance.
CBS Sports -- Rank: 3
That offense will carry them a long way in the postseason. Josh Allen is playing a high level.
Continue reading Buffalo Bills NFL Power Rankings Roundup
Buffalo Bills: 2020 NFL Schedule
Below you will find the NFL weekly regular-season schedule for the Buffalo Bills:
MORE: Team-by-Team List of 2021 NFL Opponents
| | | | |
| --- | --- | --- | --- |
| Week 1 | Sun., Sept. 13 | vs. New York Jets | W 27-17 |
| Week 2 | Sun., Sept. 20 | at Miami Dolphins | W 31-28 |
| Week 3 | Sun., Sept. 27 | vs. Los Angeles Rams | W 35-32 |
| Week 4 | Sun., Oct. 4 | at Las Vegas Raiders | W 30-23 |
| Week 5 | Sun., Oct. 11 | at Tennessee Titans | L 42-16 |
| Week 6 | Thu., Oct. 15 | vs. Kansas City Chiefs | L 26-17 |
| Week 7 | Sun., Oct. 25 | at New York Jets | W 18-10 |
| Week 8 | Sun., Nov. 1 | vs. New England Patriots | W 24-21 |
| Week 9 | Sun., Nov. 8 | vs. Seattle Seahawks | W 44-34 |
| Week 10 | Sun., Nov. 15 | at Arizona Cardinals | L 32-30 |
| Week 11 | | BYE | |
| Week 12 | Sun., Nov. 29 | vs. Los Angeles Chargers | W 27-17 |
| Week 13 | Mon., Dec. 7 | at San Francisco 49ers | W 34-24 |
| Week 14 | Sun., Dec. 13 | vs. Pittsburgh Steelers | W 26-15 |
| Week 15 | Sun., Dec. 20 | at Denver Broncos | W 48-19 |
| Week 16 | Mon., Dec. 28 | at New England Patriots | W 38-9 |
| Week 17 | Sun., Jan. 3 | vs. Miami Dolphins | W 56-26 |
MORE: Bills historical W-L records - Bills historical head-to-head records
Get tickets: Buffalo Bills tickets
Buffalo Bills - 2021 Draft Results
The table below are all of the 2021 NFL Draft picks selected by the Buffalo Bills.
More: Full 2021 NFL Draft Results - Buffalo Bills Draft History
Buffalo Bills Fantasy Football ADPs
When it comes time to draft our fantasy football teams, it's helpful to know where players are typically being selected in fantasy football drafts.
As we approach the 2021 NFL season, the tool that helps us understand where players are being selected, on average, is fantasy football average draft position (ADP).
Using data from Fantasy Football Calculator, we have set up pages for all fantasy-relevant players that depicts their current trends in standard-scoring and PPR-scoring ADPs.
The chart below displays the Fantasy Football Average Draft Position (ADP) movement over the past 30 days for Buffalo Bills quarterback Josh Allen in 12-team standard-scoring formats.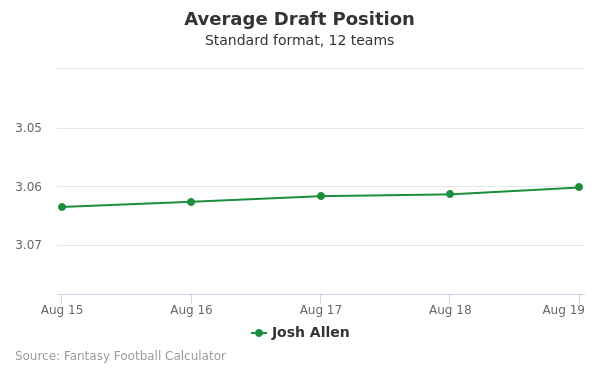 More Fantasy Football ADP charts for Buffalo Bills players:
More of our content:
Keep track of our site's updates: (1) follow us on Twitter, (2) like us on Facebook and/or (3) subscribe to our newsletter.