Throughout the year and leading up to the 2023 NFL Draft, we will update our Las Vegas Raiders Mock Draft Roundup showing picks for the Las Vegas Raiders from several prominent sites and draft analysts.
The following are picks in recent mock drafts for the Raiders:
The Athletic - Dane Brugler (5/3)
13. Paris Johnson Jr., OT, Ohio State
Next year's offensive tackle class doesn't look particularly strong right now, and the "OT1" spot is wide open. The Buckeyes' starting right guard in 2021, Johnson is expected to move out to tackle as a junior in 2022, and scouts will be watching him closely.
Draft Wire - Luke Easterling (5/3)
14. Kelee Ringo, CB, Georgia
This defense could use a shutdown, big-play corner to take advantage of their relentless pass rush. Ringo sealed the Bulldogs' national title with an epic pick-six, and could bring more of the same to Vegas.
Fox Sports - Jason McIntyre (5/3)
12. Jalen Carter, IDL, Georgia
All three starters on Georgia's 2021 defensive line were drafted in the top 50, and that means Carter ascends to a starting role and, likely, an All-American nod.
Continue reading our Las Vegas Raiders Mock Draft Roundup
MORE TEAMS: All NFL Team Mock Draft Roundups
Throughout the 2022 NFL season, we will compile a consensus NFL Power Rankings that averages the rankings of all 32 NFL teams.
Here is where the Las Vegas Raiders rank in terms of average, best and worst:
Average ranking: 12.8 (13th)
Best ranking: 10 (NFL.com)
Worst ranking: 17 (CBS Sports)
Below you will find a post-NFL Draft roundup for the Raiders in our consensus 2022 NFL Power Rankings.
ESPN -- Rank: 17
Player who benefited most from draft: QB Derek Carr

Well for one, the Raiders did not draft his replacement. But for another, the new regime did add some depth to protect him with a pair of versatile offensive linemen in Dylan Parham and Thayer Munford. Now, neither guy jumps off the page immediately, but they do make a suspect O-line better in terms of competition, right? And in May, that's all you can really hope for when you don't make your first selection until late in the third round of the draft. Plus, the Raiders did use those first two picks to get wide receiver Davante Adams for Carr in trade, yes? Yes. -- Paul Gutierrez
NFL.com -- Rank: 13
Anybody else hyper impressed with Derek Carr's new haircut? Carr's gone on quite the lettuce journey during his NFL career, but the modified faux-hawk debuted at the start of the draft is an ace look that will only endear him further with the beautiful lunatics of the Black Hole. Meanwhile, the Raiders' draft class was significantly downsized by the Davante Adams trade, something Silver & Black fans can surely live with. The biggest news before the draft revolved around the announcement that the team would not be picking up the fifth-year option on any of its three first-round picks from 2019. It's actually impressive the Raiders are in such a solid position despite that hat trick of personnel misses.
Continue reading Las Vegas Raiders NFL Power Rankings Roundup
Las Vegas Raiders: 2022 NFL Schedule
Below you will find the weekly NFL regular-season schedule for the Raiders in 2022.
MORE: 2023 NFL Strength of Schedule
MORE: 2023 NFL Opponents
| | | | |
| --- | --- | --- | --- |
| Week 1 | Sun., Sept. 11 | at Los Angeles Chargers | L 19-24 |
| Week 2 | Sun., Sept. 18 | vs. Arizona Cardinals | L 23-29 (OT) |
| Week 3 | Sun., Sept. 25 | at Tennessee Titans | L 22-24 |
| Week 4 | Sun., Oct. 2 | vs. Denver Broncos | W 32-23 |
| Week 5 | Mon., Oct. 10 | at Kansas City Chiefs | L 29-30 |
| Week 6 | | BYE | |
| Week 7 | Sun., Oct. 23 | vs. Houston Texans | W 38-20 |
| Week 8 | Sun., Oct. 30 | at New Orleans Saints | L 0-24 |
| Week 9 | Sun., Nov. 6 | at Jacksonville Jaguars | L 20-27 |
| Week 10 | Sun., Nov. 13 | vs. Indianapolis Colts | L 20-25 |
| Week 11 | Sun., Nov. 20 | at Denver Broncos | W 22-16 (OT) |
| Week 12 | Sun., Nov. 27 | at Seattle Seahawks | W 40-34 (OT) |
| Week 13 | Sun., Dec. 4 | vs. Los Angeles Chargers | W 27-20 |
| Week 14 | Thu., Dec. 8 | at Los Angeles Rams | L 16-17 |
| Week 15 | Sun., Dec. 18 | vs. New England Patriots | W 30-24 |
| Week 16 | Sat. Dec. 24 | at Pittsburgh Steelers | L 10-13 |
| Week 17 | Sun., Jan. 1 | vs. San Francisco 49ers | L 34-37 (OT) |
| Week 18 | Sat., Jan. 7 | vs. Kansas City Chiefs | L 13-31 |
MORE: Raiders historical W-L records - Raiders historical head-to-head records
Get tickets: Las Vegas Raiders tickets
Las Vegas Raiders - 2022 Draft Results
The table below are all of the 2022 NFL Draft picks selected by the Las Vegas Raiders.
More: 2022 NFL Draft Results - Las Vegas Raiders Draft History
More NFL Draft content:
Las Vegas Raiders Fantasy Football ADPs
When it comes time to draft our fantasy football teams, it's helpful to know where players are typically being selected in fantasy football drafts.
As we approach the 2021 NFL season, the tool that helps us understand where players are being selected, on average, is fantasy football average draft position (ADP).
Using data from Fantasy Football Calculator, we have set up pages for all fantasy-relevant players that depicts their current trends in standard-scoring and PPR-scoring ADPs.
The chart below displays the Fantasy Football Average Draft Position (ADP) movement over the past 30 days for Las Vegas Raiders running back Josh Jacobs in 12-team standard-scoring formats.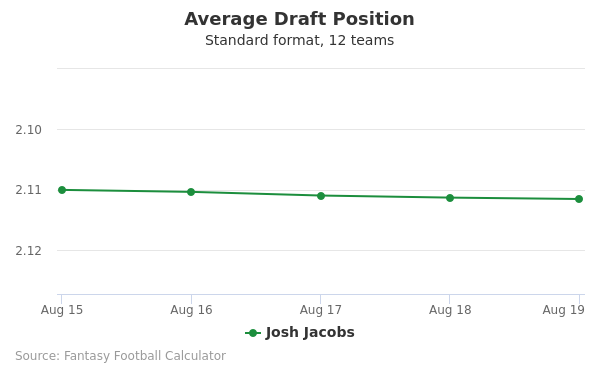 More Fantasy Football ADP charts for Las Vegas Raiders players:
More of our content:
Keep track of our site's updates: (1) follow us on Twitter, (2) like us on Facebook and/or (3) subscribe to our newsletter.