Detroit Lions 2022 NFL Mock Draft Roundup 1.0
Throughout the year and leading up to the 2022 NFL Draft, we will update our Detroit Lions Mock Draft Roundup showing picks for the Detroit Lions from several prominent sites and draft analysts.
For a more inclusive lists of mock drafts for the Detroit Lions, check out our Detroit Lions Mock Draft Database.
The following are picks in recent mock drafts for the Lions:
EDSFootball - Hanson (5/10)
2. Spencer Rattler, QB, Oklahoma
If the Lions are picking this high in 2022, it's possible that they could look to reset at quarterback. The Lions would only incur a $10 million cap hit if they moved on from Jared Goff next offseason. In addition, Lions general manager Brad Holmes recently said they "
would have had to strongly consider
" a quarterback at No. 7 if Penei Sewell weren't their highest-ranked player available.
Since 2018, two Sooner quarterbacks (Baker Mayfield and Kyler Murray) have been selected first overall and another (Jalen Hurts) was a second-round pick. If there's a quarterback that will challenge Howell for the honor to be 2022's QB1, it's most likely Rattler. Based on props from
Bovada
, Rattler (11/2) is the early favorite to win the
Heisman Trophy
over Clemson's D.J. Uiagalelei (6/1), who's not eligible until the
2023 NFL Draft
.
30. Justyn Ross, WR, Clemson
After missing all of 2020 after surgery to repair a bulging disk and congenital fusion in his spine, the draft evaluations for Ross will begin with his medicals. Provided doctors are comfortable with his outlook, he has the talent to be a first-round receiver next April and perhaps even the WR1 in 2022. In his first two seasons with the Tigers, Ross (6-4, 205) has 112 receptions for 1,865 yards (16.7 Y/R) and 17 touchdowns.
Touchdown Wire - Schofield (5/7)
2. Malik Willis, QB, Liberty
Ok this might seem spicy for a few reasons...

The Detroit Lions passed on the quarterback position with their first selection in the 2021 NFL draft, adding young and talented offensive tackle Penei Sewell. That likely means Jared Goff has at least one season to prove himself as the starter in Detroit.

But if the Lions are picking where odds-makers believe they will be, then the Goff experiment likely has come to a sudden, and disappointing, conclusion. If the Houston Texans indeed address the pass rush, that could give general manager Brad Holmes his choice of quarterbacks. While many point to UNC's Sam Howell or Oklahoma's Spencer Rattler as the likely QB1 right now, there is a case to be made for Liberty's Malik Willis. Allow Bruce Feldman to open the argument:
"He has the strongest arm of anybody I have ever seen." Quincy Avery, who has worked with a bunch of NFL QBs, including Trey Lance, the guy with the biggest arm in this draft, is one of many raving about the potential of Malik Willis: https://t.co/9UAprGnnYw

— Bruce Feldman (@BruceFeldmanCFB) May 2, 2021
There is a lot of football to be played, but Willis could certainly be the next QB riser, perhaps all the way to the Motor City. If he takes another big step forward, Willis could indeed put himself in QB1 contention.
29. John Metchie III, WR, Alabama
Thanks to the Matthew Stafford trade, the Detroit Lions have a second pick in the 2022 first round. Earlier in this scenario the Lions added Malik Willis from Liberty, the intriguing quarterback who could rocket up boards if he puts together a solid 2021 season. Now they add to the receiver room later in the first round.

And yes, Alabama has another receiver to watch. After seeing Jerry Jeudy, Henry Ruggs III, DeVonta Smith and Jaylen Waddle all get picked in the first round, John Metchie III could be the next Crimson Tide WR to crash the early selections. There is early buzz that Metchie could be the best of the group, and while in my mind it is far too early for such a statement, every time you turn on Alabama film you can see #8 working himself open. If that continues this fall, Metchie will certainly see his stock rise.
Continue reading our Detroit Lions Mock Draft Roundup
MORE TEAMS: All NFL Team Mock Draft Roundups
2021 NFL Power Rankings: Detroit Lions
Throughout the 2021 NFL season, we will compile a consensus NFL Power Rankings that averages the rankings of all 32 NFL teams.
Here is where the Detroit Lions rank in terms of average, best and worst:
Average ranking: 31.0 (31st)
Best ranking: 30th (CBS Sports)
Worst ranking: 32nd (NFL.com)
Below you will find a post-draft roundup for the Lions in our consensus 2021 NFL Power Rankings.
ESPN -- Rank: 31
Player who benefited most from draft: QB Jared Goff

Ahead of the draft, the new Lions quarterback was assured by the front office that the team wouldn't select another QB. They didn't, which he said gave him a "nice foot of confidence" entering his first year in Detroit. They also beefed up the offensive line by drafting a potential generational talent in Oregon OT Penei Sewell to help protect him. Although building up the offensive and defensive lines was a priority, Goff was also "excited" for fourth-round WR Amon-Ra St. Brown, who could be a good fit. -- Eric Woodyard
NFL.com -- Rank: 32
The Lions are playing for tomorrow, so it's best to look at the team's 2021 draft as a foundation-building exercise. It started with a franchise left tackle in Oregon stud Penei Sewell, followed by three picks that addressed defense in the second and third rounds. That's not going to help Jared Goff complete more passes this fall, but that's not really the point. Goff feels more like a placeholder until 2022, when the Lions can use another premium draft asset on their future at QB. Unless, I suppose, Goff goes full Aaron Rodgers and sticks it to all his doubters in a profound way. Crazier things have happened!
Continue reading Detroit Lions NFL Power Rankings Roundup
Detroit Lions: 2021 NFL Schedule
Below you will find the weekly NFL regular-season schedule for the Lions in 2021.
MORE: 2021 NFL Strength of Schedule
| | | | |
| --- | --- | --- | --- |
| Week 1 | Sun., Sept. 12 | vs. San Francisco 49ers | 1:00 PM / Tickets |
| Week 2 | Mon., Sept. 20 | at Green Bay Packers | 8:15 PM / Tickets |
| Week 3 | Sun., Sept. 26 | vs. Baltimore Ravens | 1:00 PM / Tickets |
| Week 4 | Sun., Oct. 3 | at Chicago Bears | 1:00 PM / Tickets |
| Week 5 | Sun., Oct. 10 | at Minnesota Vikings | 1:00 PM / Tickets |
| Week 6 | Sun., Oct. 17 | vs. Cincinnati Bengals | 1:00 PM / Tickets |
| Week 7 | Sun., Oct. 24 | at Los Angeles Rams | 4:05 PM / Tickets |
| Week 8 | Sun., Oct. 31 | vs. Philadelphia Eagles | 1:00 PM / Tickets |
| Week 9 | | BYE | |
| Week 10 | Sun., Nov. 14 | at Pittsburgh Steelers | 1:00 PM / Tickets |
| Week 11 | Sun., Nov. 21 | at Cleveland Browns | 1:00 PM / Tickets |
| Week 12 | Thu., Nov. 25 | vs. Chicago Bears | 12:30 PM / Tickets |
| Week 13 | Sun., Dec. 5 | vs. Minnesota Vikings | 1:00 PM / Tickets |
| Week 14 | Sun., Dec. 12 | at Denver Broncos | 4:05 PM / Tickets |
| Week 15 | Sun., Dec. 19 | vs. Arizona Cardinals | 1:00 PM / Tickets |
| Week 16 | Sun., Dec. 26 | at Atlanta Falcons | 1:00 PM / Tickets |
| Week 17 | Sun., Jan. 2 | at Seattle Seahawks | 4:25 PM / Tickets |
| Week 18 | Sun., Jan. 9 | vs. Green Bay Packers | 1:00 PM / Tickets |
MORE: Lions historical W-L records - Lions historical head-to-head records
Get tickets: Detroit Lions tickets - Detroit Pistons tickets - Detroit Tigers tickets
Detroit Lions - 2021 Draft Results
The table below are all of the 2021 NFL Draft picks selected by the Detroit Lions.
| | | | | |
| --- | --- | --- | --- | --- |
| 1 | 7 | Penei Sewell | OT | Oregon |
| 2 | 41 | Levi Onwuzurike | DT | Washington |
| 3 | 72 | Alim McNeill | DT | North Carolina State |
| 3 | 101 | Ifeatu Melifonwu | CB | Syracuse |
| 4 | 112 | Amon-Ra St. Brown | WR | USC |
| 4 | 113 | Derrick Barnes | LB | Purdue |
| 7 | 257 | Jermar Jefferson | RB | Oregon State |
More: Full 2021 NFL Draft Results - Detroit Lions Draft History
More NFL Draft content:
Detroit Lions Fantasy Football ADPs
When it comes time to draft our fantasy football teams, it's helpful to know where players are typically being selected in fantasy football drafts.
As we approach the 2021 NFL season, the tool that helps us understand where players are being selected, on average, is fantasy football average draft position (ADP).
Using data from Fantasy Football Calculator, we have set up pages for all fantasy-relevant players that depicts their current trends in standard-scoring and PPR-scoring ADPs.
The chart below displays the Fantasy Football Average Draft Position (ADP) movement over the past 30 days for Detroit Lions quarterback Matthew Stafford in 12-team standard-scoring formats.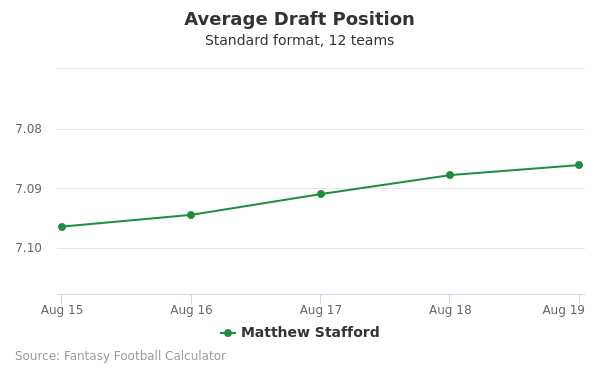 More Fantasy Football ADP charts for Detroit Lions players:
More of our content:
Keep track of our site's updates: (1) follow us on Twitter, (2) like us on Facebook and/or (3) subscribe to our newsletter.